Every member of your deal team has a viewpoint worth sharing.
Models are built to be shared, discussed, and debated to ultimately reflect the cumulative experience and judgment of your deal team.
That's a tough standard to achieve when "Bespoke-Model-v239.xlsx" is only operable by one Associate (and buried in the shared drive).
Collaborate around dynamic models on-screen in a deal team debrief room and make changes live - with confidence - and without interrupting your discussion to wait for Excel model iterations.
Your deal team deserves a better way to collaborate.
Models are built to be shared and debated
Empower your deal team to adjust key model assumptions and see the impact live without digging through Excel.
Share your Mosaic models with your deal team members, giving them the power to quickly adjust key assumptions and view the impact to modeled returns in real time.
MDs don't need to wait hours for a new PDF output or try to navigate an unfamiliar Excel template - they can simply run their own case from their laptop or iPad in Mosaic.
Real-time collaboration
Harness the brainpower around your table.
Firms that have adopted Mosaic firmwide are leveraging the platform to facilitate valuation discussions within deal teams before a major milestone (e.g., investment committee, bid submission, etc.).
Screen-share your Mosaic model virtually or in a conference room and flip between individual deal team members' personal operating cases to debate key differences and arrive at your collective view of the truth.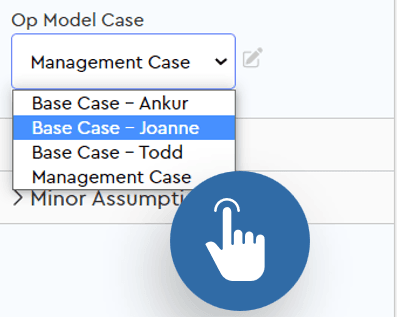 Add complexity when the deal calls for it
Mosaic is ready to get creative when you are.
Want to see what an IPO exit scenario would look like, but can't bring yourself to ruin your Associate's Saturday? Mosaic has no weekend plans. Just flip on the IPO exit module and see the result live. Dividend recaps. M&A. Cost savings. Extended investment hold periods. If we haven't thought of it, let us know.