Less
Time
Linking.
More
Time
Thinking.
Explore the World's Leading Digital Deal Modeling™ Platform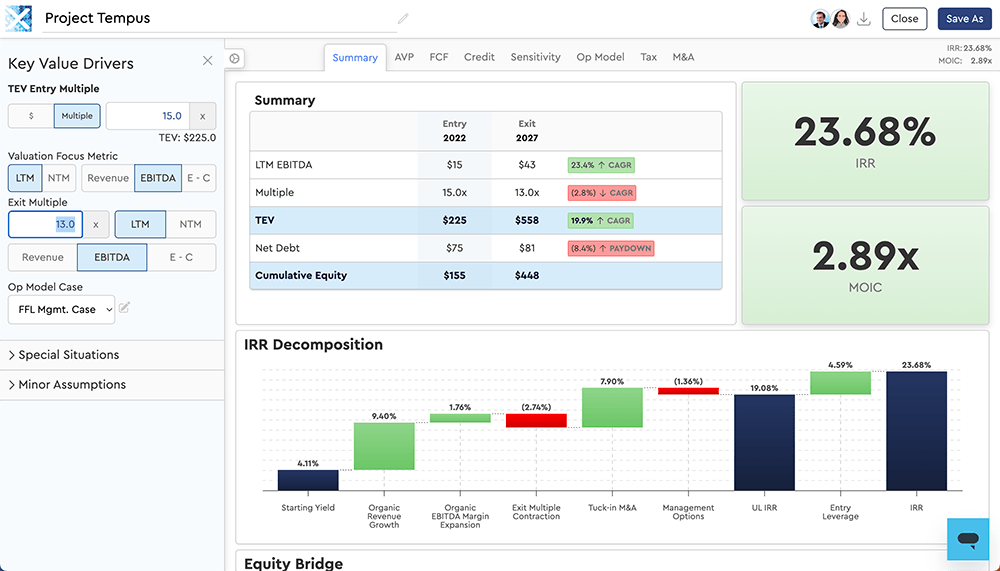 Our partners have over $550 billion in assets - and zero seconds to waste
Correct the first time. Every time.
Welcome to assumptions-driven modeling
Less time linking. More time thinking.
A great model never made a great investment.
Model mechanics don't differentiate a bid, but they take up a significant portion of your deal team's (i) time (building them) and (ii) mindshare (worrying about their accuracy).
Repurpose hours wasted on table-stakes math to thoughtful selection of critical assumptions by letting Mosaic handle repetitive calculations.
Get to the "80/20" quickly and confidently
Explore "what you need to believe" early and often.
Models are easy to overcomplicate, but typically boil down to 3-5 critical assumptions that drive the ultimate decision. Use Mosaic to quickly triage new opportunities and decide where to focus your team's valuable time.
Add complexity when the deal calls for it
Mosaic is ready to get creative when you are.
Want to see what an IPO exit scenario would look like, but can't bring yourself to ruin your Associate's Saturday? Mosaic has no weekend plans. Just flip on the IPO exit module and see the result live. Dividend recaps. M&A. Cost savings. Extended investment hold periods. If we haven't thought of it, let us know.

Excel at your job
Download Mosaic models to Excel with working formulas when it's time to dive deep.
We ♥ Excel and aren't here to replace it. That's why all Mosaic models are downloadable into Excel with fully linked formulas and best-in-class financial modeling practices (e.g., color codes, no hardcodes in formula cells, print formatted, etc.).
That means (i) full transparency into how our math works and (ii) full extensibility for those few models that require final-bid complexities (e.g., bespoke structure).
Our Partners ♥ Mosaic
CLIENT TESTIMONIALS
Mosaic is my go-to tool as a mega fund private equity Associate – it allows me to accelerate the tedious task of building a model's infrastructure and allows for seamless collaboration through the intuitive visualizations. Mosaic is the future. This will become the new standard.
Associate
Mega-cap Buyout
I love this platform. It's quick, intuitive, and saves me and my team hours of iterating on Excel models.
Less time linking, more time thinking! Finally, private equity is becoming tech-enabled.
Managing Director
Large-cap Buyout
The Mosaic modeling tools are the greatest innovations I have witnessed in my career as an investor. The over-utilization of junior resources is perhaps the largest problem facing the financial services industry and Mosaic addresses that head on. Mosaic easily saves my team 10+ hours on each investment opportunity, freeing up hours for value-add work streams. I hope this becomes ubiquitous across the industry, so Mosaic proficiency is regarded in the same vein as PowerPoint or Excel proficiency.
Associate
Large-cap Buyout
Mosaic's modeling tool helps me (i) form a view quickly on the basic return parameters for a deal and (ii) check an associate's model much more quickly. I save a ton of time and it's a much easier user interface than clunky Excel.
Senior Principal
Large-cap Buyout
Mosaic saves me hours of time checking my Associates' models between the dozens of case iterations leading up to IC.
VP
Mega-cap Buyout
Mosaic's Quick LBO gets me 95% of the way to an answer without 99% of the work. Like BamSEC and CapIQ, it's become a must have tool that supports a better work life balance and a healthier culture while improving our productivity.
Senior Principal
Large-cap Buyout
Running Mosaic is the first thing I do when I receive a new model to review and the last thing I do before sharing with my MD.
If the outputs line up perfectly – or if I understand and accept why they don't – I have full confidence in my Associate's model.
Achieving that level of certainty without Mosaic used to take me hours.
VP
Mega-cap Buyout
Mosaic's fully functional and well formatted LBO models unlock time for Associates to focus on value-additive tasks and demonstrate their true capabilities. The models also include helpful tools, such as IRR decompositions, which massively help in creating a thoughtful diligence plan.
Associate
Large-cap Buyout
Request a Demo
Reach out to learn how investment professionals across the globe are leveraging Mosaic to work more efficiently.
Our team will get back to you within one business day.