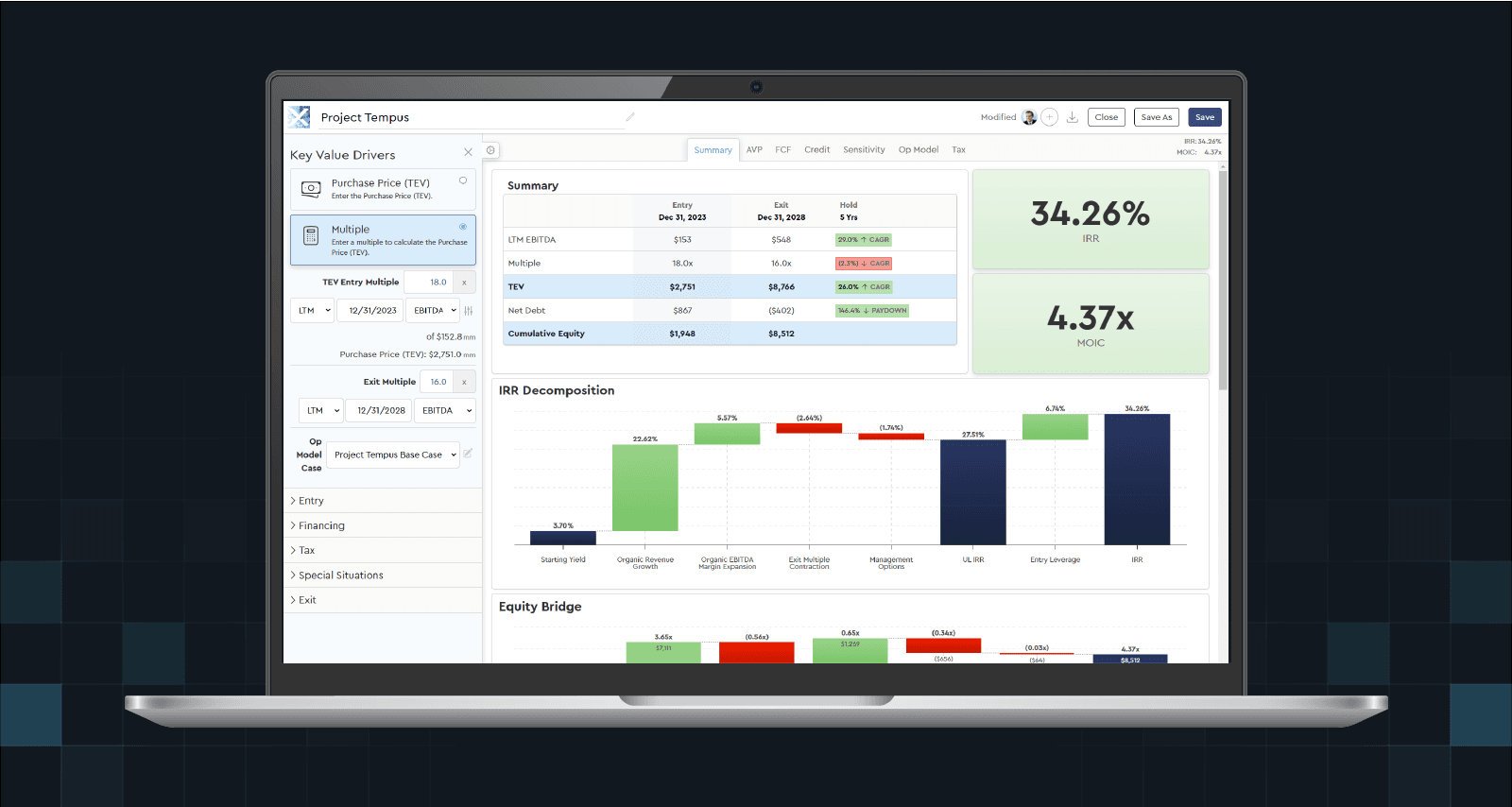 Published October 23, 2023
The Future of Digital Deal Modeling: Unveiling Mosaic's Game-Changing Platform Update
When we first launched Mosaic three years ago from our HBS dorm room, it was with a vision to unleash the peak analytic capability of the world's best deal makers beyond the constraints imposed by static spreadsheets.
Today, that vision takes a bold leap forward.
We're proud to introduce the latest release of Mosaic – the world's leading Digital Deal Modeling™ platform trusted by thousands of deal makers managing over half a trillion of assets.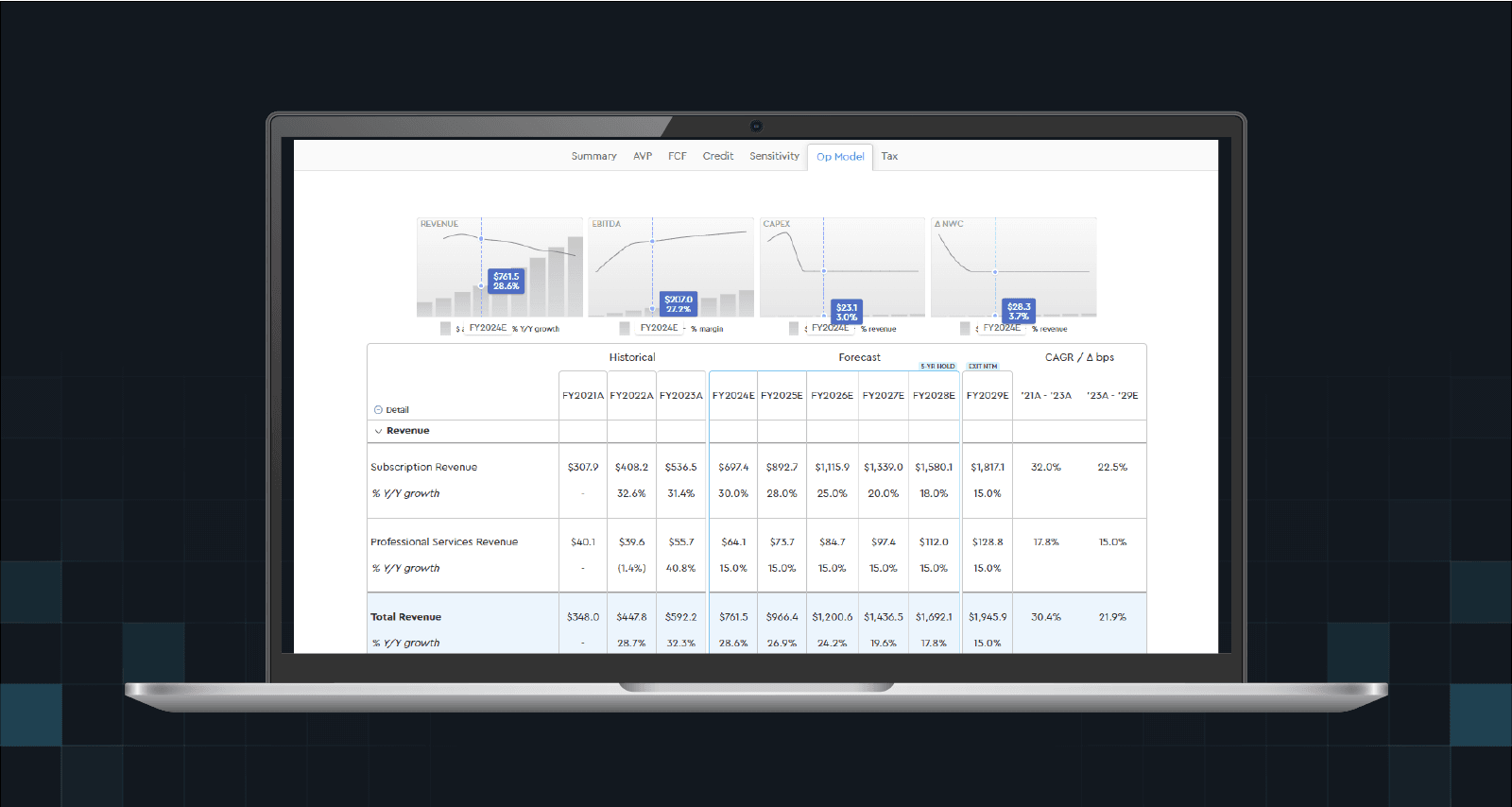 This article walks through some of the key upgrades in this major release. Each feature was carefully crafted after speaking with thousands of our users including investment professionals at some of the world's largest private equity firms, pension plans, investment banks and corporate development teams.
Since our founding, these users have leveraged prior releases of the Mosaic platform on their deal teams to efficiently screen new "top of the funnel" investment opportunities more quickly than ever before possible in Excel – and without error. The spirit behind the majority of these requested enhancements was to be able to extend Mosaic's "assumptions-driven modeling" approach past the screening stage and into full due diligence and investment underwriting.
This release unlocks that ability through the addition of five critical new features:
1. Fully Customizable P&Ls
Mosaic's founding product set its sights on streamlining transaction returns math (IRR, MOIC) with "assumptions-driven" modeling. This release extends our defining approach to the operating model – the investment industry's non-GAAP combination of the Income Statement and relevant Cash Flow elements that comprise Unlevered Free Cash Flow. Our latest update hands users the reins to fully control the building blocks of organic growth driving Revenue, EBITDA, Capital Expenditures and Net Working Capital ("NWC").
Mosaic now comes pre-loaded with several quick-start elements (e.g., multi-segment Revenue & EBITDA builds, common cost structures like COGS / Gross Margin / S&M / R&D / G&A, and NWC builds for software or physical products businesses). It also allows you to define your own custom elements to build to each core cash flow row – because every business is different, and understanding these building blocks is a core part of diligence.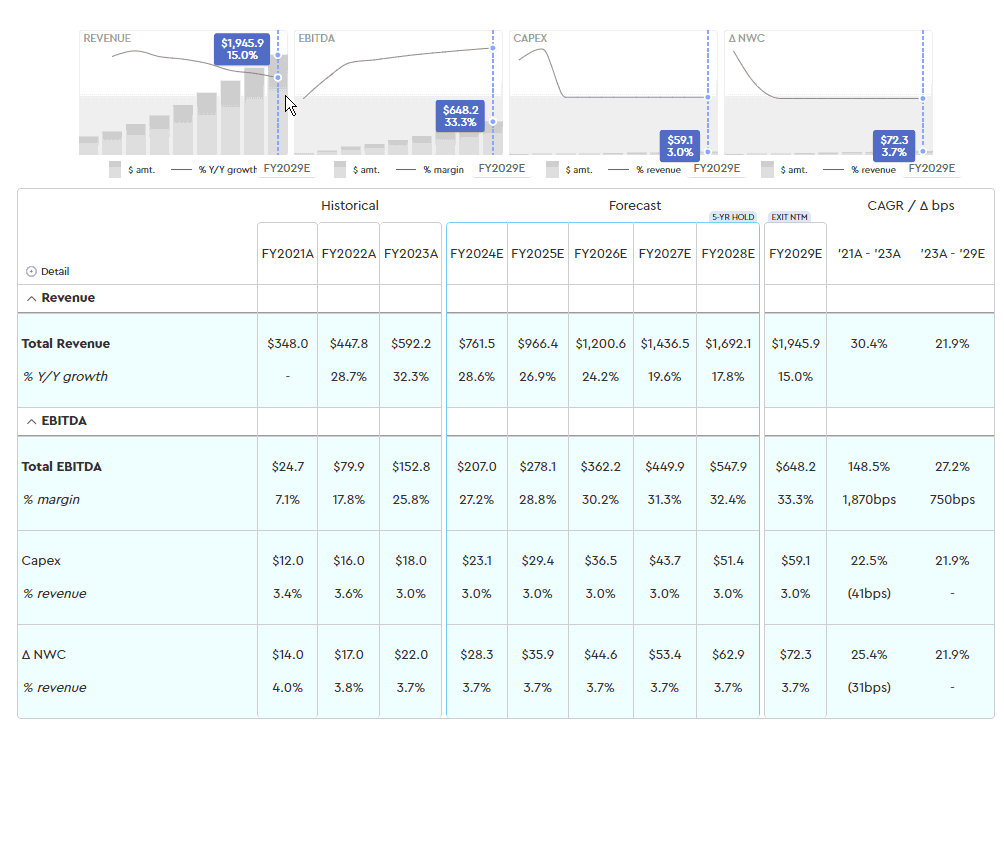 2. Quarterly & Monthly Modeling
Once a deal moves past the early innings – and if cash flow seasonality, volatility or liquidity concerns warrant it – transitioning from an annual model to quarterly (or the dreaded monthly) used to take hours of painstaking manual Excel work. Mosaic will transition your annual models to quarterly and monthly at the click of a button – cleanly rolling up to quarters / years without the linking (and the warranted fear of mis-linking).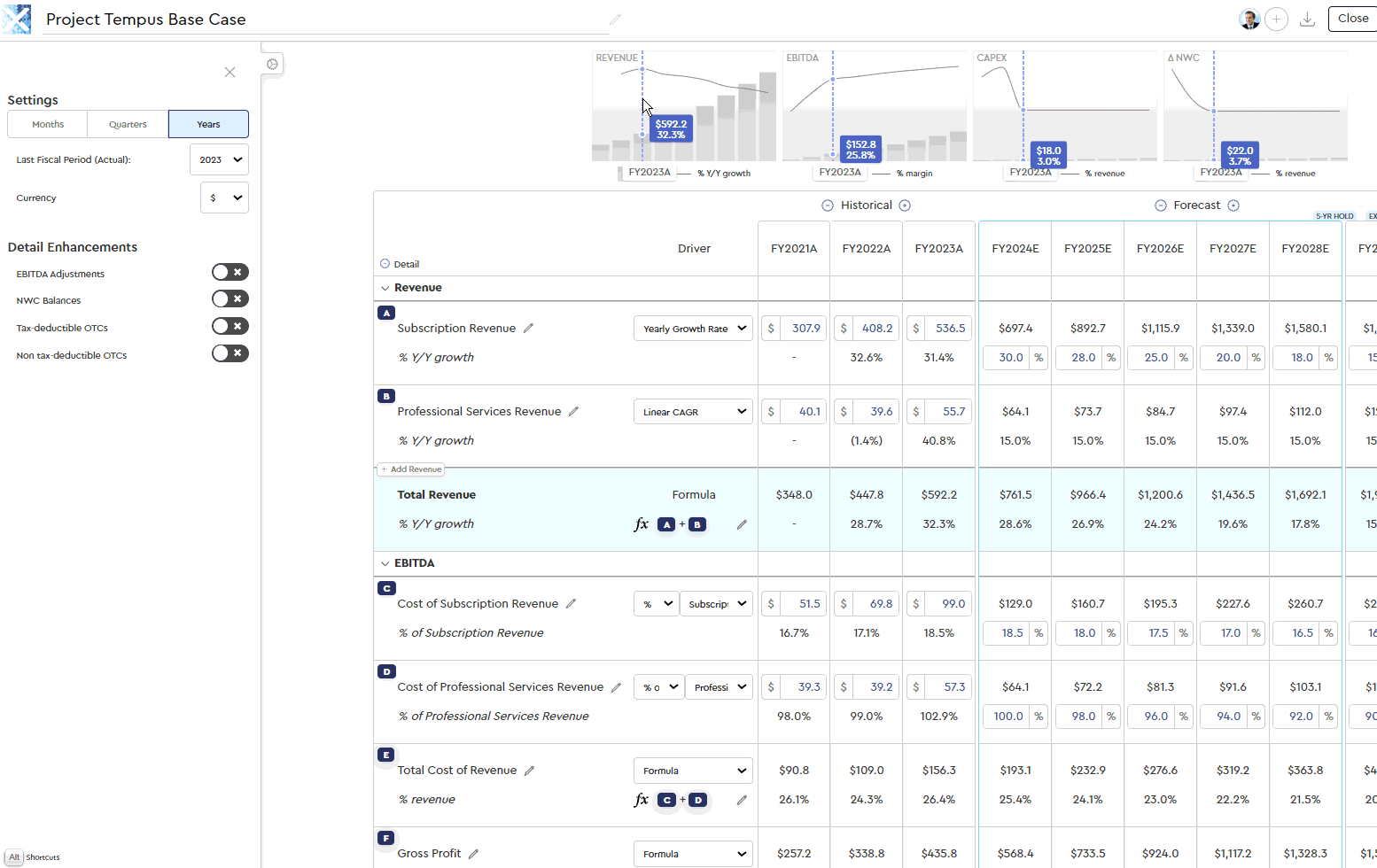 3. Dynamically Generated, Customizable Excel
Say good-bye to the 50,000-cell Excel template (with 35,000 unused cells and a handful of #REFs) that was handed down to you by some VP who is no longer at the firm. Mosaic now smartly outputs only the tables that match your specific analysis needs. No more orphan second tranche of debt on that uni-tranche deal. No more M&A tables cluttering up a deal with no roll-up prospects. Every cell has a purpose, so you can focus on what matters.
Want to align it with your brand's aesthetics? Customize it with your firm's unique colors and fonts.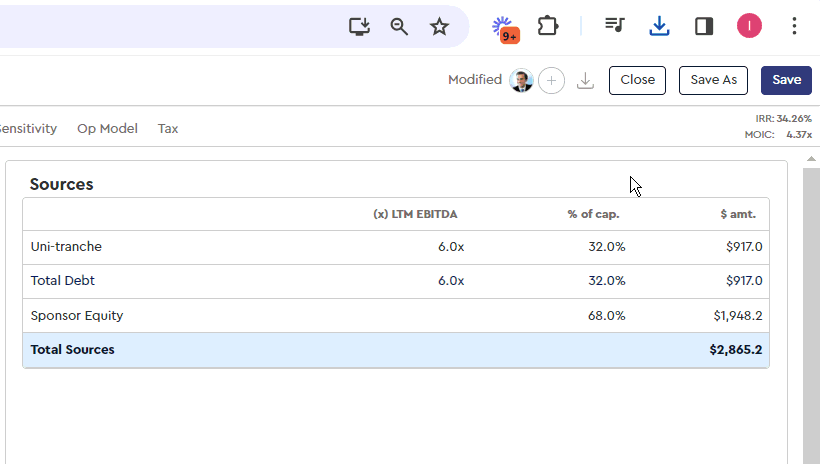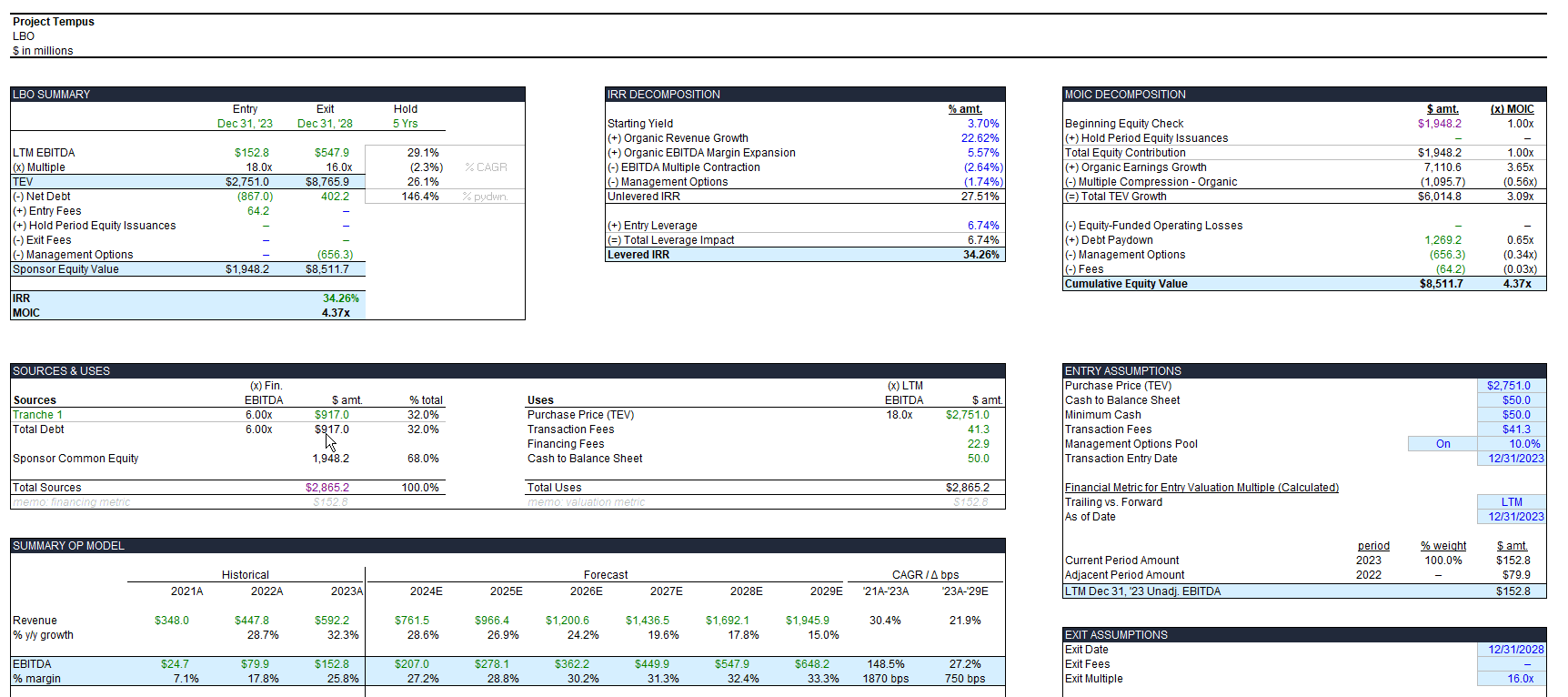 4. Stub Entry & Exit
10 out of 10 Investment Professionals agree – they'd rather stub a toe than stub a model. Those few bps of added precision require hours of focused work to layer in, and expose your model to a high risk of a mis-linking bust (i.e., should I stub interest in the cash flow schedule or the debt schedule? What about the tax schedules? How's this going to impact my yields – surely those shouldn't be stubbed? Nightmare).
Simply select your entry and exit dates and let Mosaic's field-tested algorithm handle the table-stakes math. Just because you can do it, doesn't mean you should.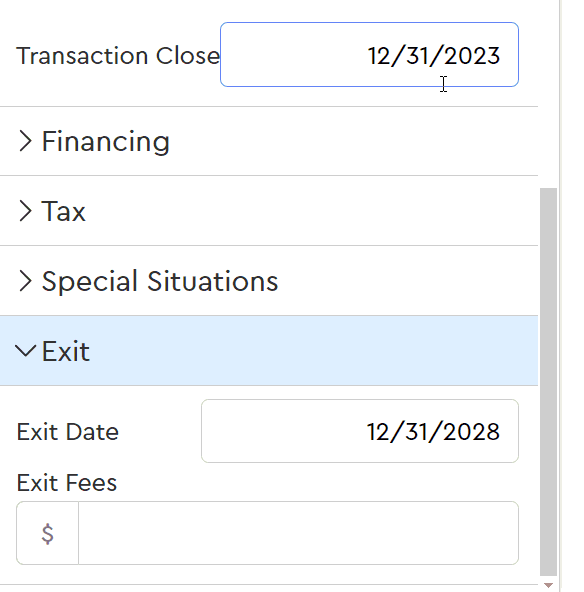 5. Enhanced Sensitivity Analysis
Step-up your scenario analysis with our enhanced sensitivity tables – now displaying MOIC, IRR, or both, shown to two decimal places for greater precision.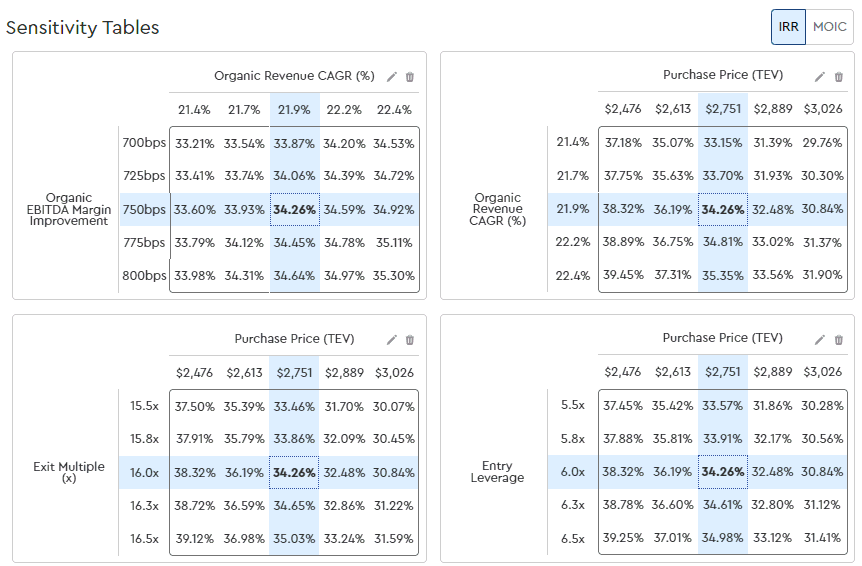 Additional Productivity Boosters
Because every second counts when you're sprinting to the finish line – below are a handful of additional enhancements included in this release to make your life easier:
Drive Net Working Capital as a balance or model the change directly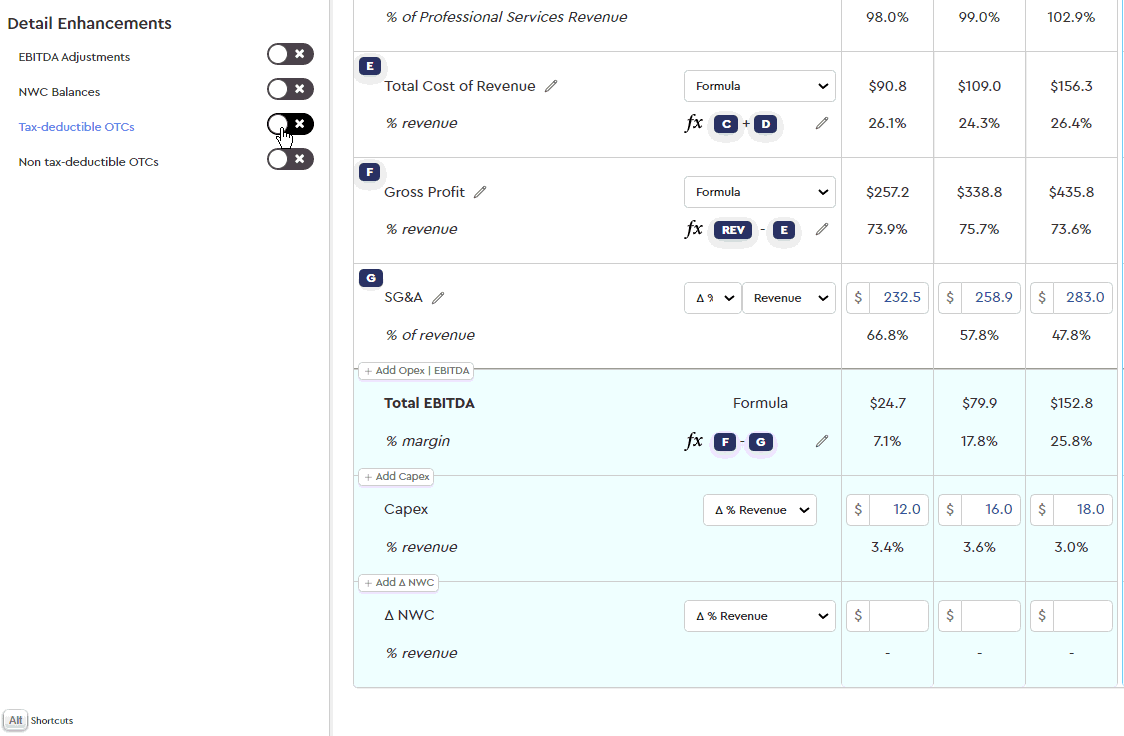 Alternate between entering values as dollar amounts or margins with a click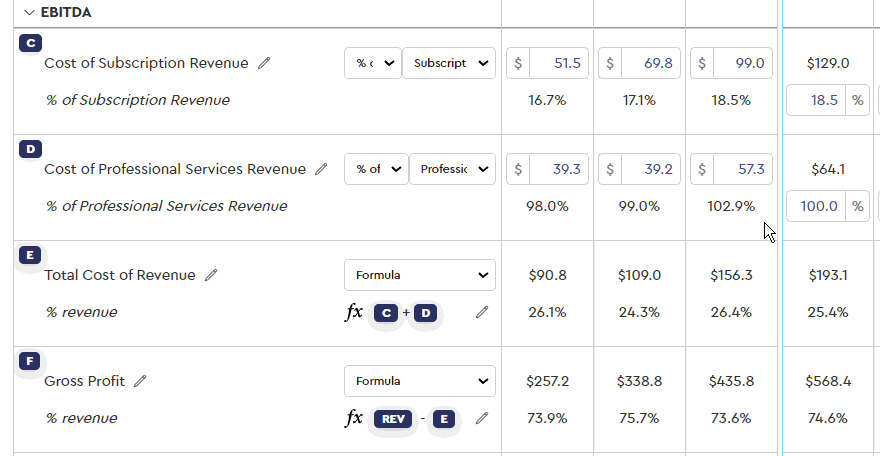 Navigate effortlessly using our intuitive hotkeys. Just hit ALT (or command on Mac) to pull up on-screen prompts: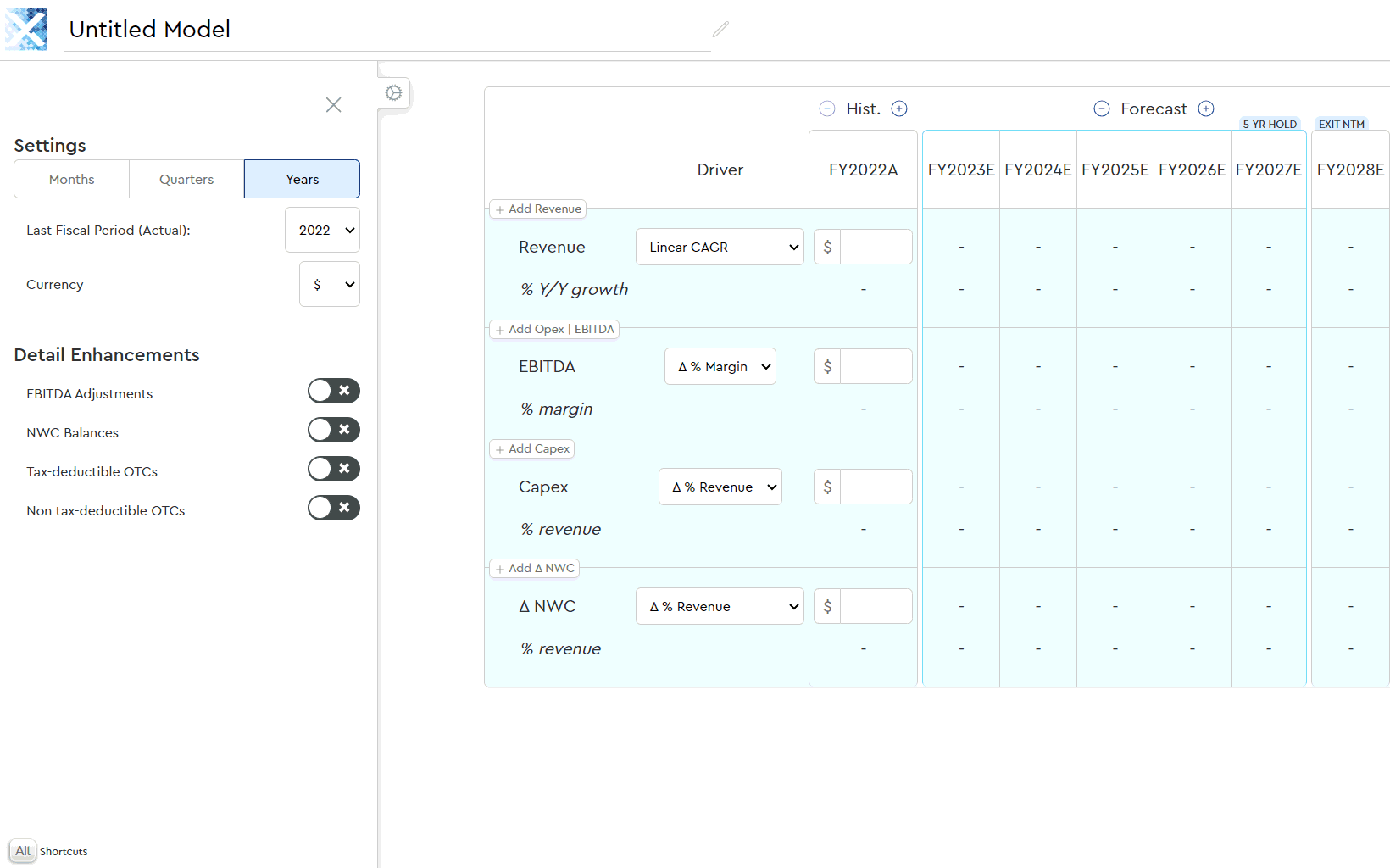 At Mosaic, we're not about buzzwords (note: we haven't even mentioned AI once in this post). We're about supporting the people who work nonstop for their LPs through our innovative technology. Our mission has always been to merge our deep industry expertise with the technological agility we've seen benefit industries outside of finance. Today with this latest Mosaic update, we celebrate a significant milestone in executing on that mission.
Experience the world's leading Digital Deal Modeling™ platform trusted by the world's most technologically advanced private equity firms and shaped by the collective (natural!) intelligence of thousands of the world's best deal makers.
Dive into the new Mosaic platform today.
Request a Demo
Reach out to learn how investment professionals across the globe are leveraging Mosaic to work more efficiently.
Our team will get back to you within one business day.